10 TIPS ON HOW TO FUCK LIKE A BLACK HUNG TOP
Fucking like a black ma is a thing. We are known for many things and being the sex Gods we are, I thought of sharing some simple tips to use in your sex life. 
1. How You FUCK 
Or we say, how you lay pipe. Every top has his own way of owning the ass. What do I mean? It is your DNA of fucking. Do you touch while u lay pipe? Do you dirty talk? Do you watch your dick fucking the ass? Get to know yourself on how you fuck. Real big, hung black men who are good  at fucking touch, dirty talk and use their deep voices to turn the bottom on. 
2. Engage your pelvis.
When a black man fucks you, it is all in the waist and pelvis, nothing else.
Start some yoga classes, dance classes or search YouTube for ways to release the tension in your lower back. This will allow you to improve your stroke game. 
3. DOMINATE
Black men dominate their slave, their ass, their bottom. That means giving the bottom the fuck of his life every time. If you can freak your bottom, go the extra mile. Ensure you stand up in that pussy. Great black tops don't fuck the pussy straight in and out, they  find new angles to work the hole.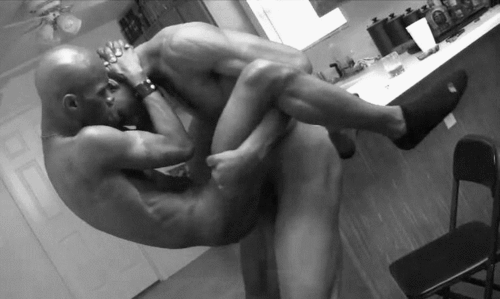 4. Stabbing the PUSSY OUT
Can you make the bottom tap out? Can you make him stop you from fucking him because your dick has made his ass ruined?
You will have to learn how to fuck, short strokes or long strokes. Whatever rocks your boat, make the bottom want to run but make your dick too good to stop you. 
5. Its All About FINDING THE SPOT
TRY THIS – When you are fucking the bottom, observe his every move. Try fucking the bottom in different angles. For example, you are fucking him on his stomach, try pushing your dick to the left and to the right while in the pussy. Most times, a top will fuck straight (even if the dick is curved), you're only concerned with going in and out. 
Try going in different angles, up, down, left, or right to find how he will respond. When he does respond by moaning differently, hit that spot. 
That is why some guys like big dicks, because they hit a new spot and it feels good. 
6. GO BALLS DEEP
7. Learn how to make the pussy TALK
If you want to make the pussy talk and an ass can talk,you'll have to fuck for a while. This means opening up the pussy right where the bottom's walls starts to fart from your dick – responding to your dick when you exit the ass. This normally means the ass wants more dick. 
8. SUSTAINED STROKES
A black top normally keeps that high intensity of the strokes going. Get strong enough to fuck the ass right. Rule 1 – Make the bottom tap out first. 
9. Dance in the ass. 
10. Improve your stroke game.
That will mean you getting more ass or not.